05 Dec

MoDevEast Main Stage: The Latest in Mobile Development

Last week, mobile developers joined forces at the Gannett Conference Center in McLean, VA for the conference portion of MoDevEast – a mobile conference for developers, manager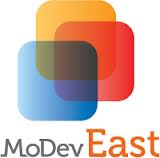 s, designers and marketers to gather and talk about everything mobile.  The event consisted of pre-conference workshops on Thursday, Nov 29th, a full conference agenda on Friday, Nov 30th, and a hackathon on Dec 1st.
I was lucky enough to be in attendance for a great day of speakers on Friday, but before things kicked off, MoDev and Disruptathon Founder Pete Erickson, along with the backing of the mobile community, announced support for Movember – an initiative to raise awareness and funds for men's health issues.  A lot of the gentlemen in the audience were sporting mustaches to add an extra punch to raise funds for their cause, although many expressed how excited they were that in less than 24 hours November would be over and they could get rid of it!  Either way, it was a nice way to kick off the holiday season and the event with the message to give back!
Matt de Ganon, VP of Mobile Products and Operations for Gannett, gave the morning keynote, focusing on how mobile has matured over the past year.  He specifically pointed out Hurricane Sandy and the devastation it caused to the NY and NJ areas as proof of how valuable the mobile device has become, pointing to photos of folks who were affected by the aftermath hunting down places to charge their devices and even making homemade chargers powered by bicycles.
Along with this revelation of mobile vitality, he also noted that a huge challenge with the mobile industry has been finding a way to put the pieces together for both users and advertisers, stating that mobile has a beauty and complexity that he doesn't think we've seen before in the technology arena. It's an opportunity to address a user in multiple ways based on how they're their own devices and what those users want to achieve.  The new question in mobile shouldn't be how to keep up with tech, but how to mature mobile products so we're innovating rather than reacting, de Ganon prompted.  He said that the mobile-first attitude has not penetrated many companies (Gannett excluded) and that more companies need to make this a priority so they aren't left behind.  How will we mature mobile products so we're innovating?  "Our job is to be smarter than we have been about how we publish and design apps and how we present mobile utility to a customer," said de Ganon. "We need to understand the vision, what the user needs and wants and develop a strategy that executes on that."
The day continued with four breakout rooms that included talks ranging from super technical to the basics. But, I stuck around the main stage to avoid getting lost in some of the more technical talks.  One panel included developers from App47, BusyConf, Bear Eco, Gannett and Adobe, all of whom favored different development platforms: HTML5, iOs, Windows and Android. Despite their differences, they all agreed the most important advice they can give for app creation is to make sure you know what you want your app to do and why before you even get started.
"Chief Doer" for Savvy Apps, Ken Yarmosh, spoke to the crowd about the impending death of the home screen, saying it will soon be replaced by notifications, widgets and voice and that apps no longer need to be opened to be useful.  He called this Home screen 2.0, and predicted it will include:
Voice – Features like Siri Eyes Free (announced as part as iOS 6) will allow our devices to interact with voice while driving your car.  You won't have to touch the device to access contacts, email, etc.
Sensors – Web cams will detect hand movements that allow you to access specific apps, while box screen widgets will allow you to access apps with a certain gesture
Background – the home screen will be everywhere.  We will no longer need to unlock our devices to get to a utility or open an app.
Notifications – Soon things like Google Now will, with permission, crawl your email and send live notifications and info that it thinks you might be interested in (weather, movies, shopping, etc.).
App interactions – Your primary device will soon become a second screen. For example, you will use the Netflix app on your phone to control your TV.
Location-based ads – More apps such as Waze will be available, giving you advertisements and deals based on your exact location, i.e. sending an ad to your home screen for the Whole Foods you just drove past.
The next talk was another panel, with speakers from 3Pillar Global, Gannett, MicroPact, Carfax and WeddingWire, which focused on product modernization- shifting your product base to meet the needs of mobile customers.  Panelists addressed how having a mobile offering can change your value proposition as a business and how often there is no one at a company that has the responsibility, authority and accountability for mobile – but there should be.  Also, did you know there are 4.8 billion mobile devices and only 4.2 billion toothbrushes?
Amit Jotwani, Developer Evangelist with Mashery, presented a talk about APIs, outlining the ways you can make your platform a developer magnet.  He noted APIs should be treated like a product, and gave some tips, including:
Be prepared
Inspire
Know your developers
Provide stellar documentation
Solve the pain
Of course there were many other great sessions along with the ones outlined above, but unfortunately, I couldn't be everywhere at once.  If you'd like more details about who spoke and what the sessions discussed, you can always check out www.modeveast.com.  The event's closing keynote was given by John Schlegal, Founder and CEO of Optime Software, where he divulged his secrets to success, including that experimentation is the key to building a business and that ideas do not need to be original or defensible, only scalable.  All in all, if you are a developer, designer, marketer or mobile enthusiast, this was a great event to attend.
Here are a few of the day's presentations that are available online:
Want to hear about the MoDevEast Hackathon and who won the grand prize?  Check out Amit Jotwani's blog post recapping the action!. Also, MoDev will be hosting the CEA MoDev Hackathon Sponsored by Travel Channel this year at CES in Las Vegas, January 8-11, 2013.  Be sure to check it out!