16 Aug

Interesting Content on Facebook? You Don't Say!

Last month SalesForce put together an infographic on what the perfect Facebook post looks like (see it larger here). It got me thinking about how companies interact with fans on Facebook and how some leave completely different impressions.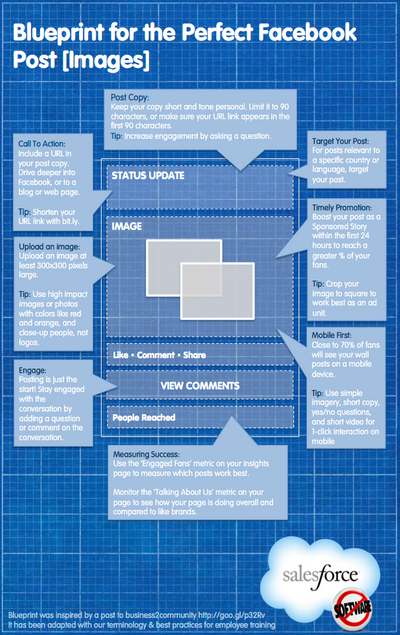 If the point of brands posting on Facebook is to CONNECT with their customers and prospects, why do so many posts come off as forced? For the most part, it seems like some brands have a message to get out and that's all that they think about.
When we post status updates for ourselves, we go through an internal process of deciding what is appropriate to post – or at least we should! We think about what our friends will like, comment on, be interested in, or find funny before we take a status update live. So why don't we do that with brands? SalesForce's blueprint is designed to help brands engage with the audience rather than talk 'at' them.
PR Daily recently published a blog post on How To Write for Facebook that outlines eight steps to think through before posting for a brand. For me, there are three things everyone should think through before they post for a brand:
Think about the action – What do you want your audience to do? How do you realistically get them to do it? Do you need to offer an incentive for a bigger action like downloads? Or are you just trying to write something that will receive likes and shares? Make sure you tailor your content to the outcome you're trying to achieve.
Make it easy – Tell the audience exactly how to participate in your contest, download your app or post photos to your page. If it seems too hard, it won't happen.
Forget your content plan – Well, don't forget it completely…  Understandably, you have a message to get out but make sure to mix those brand support messages in with more lighthearted engaging posts. No one wants to follow a brand that is basically using his or her news feed as an advertising platform. Think about your target market and post other relevant content that they may find interesting.
And last but not least, I firmly believe this to be the golden rule for all online conversation: Use proper grammar, spelling and punctuation!  When representing a brand it is imperative to use the correct version of a word (you're/your) and to use fully spelled-out words (though/tho).
Any other rules you all follow when posting on Facebook?
Also, if you're interested in more info on content and inbound marketing, attend our webinar on August 29th. SBX CEO, Elizabeth Shea will be hosting a webinar on inbound marketing with special guests Matt Howard, CEO of ZoomSafer and DP Venkatesh, CEO of mPortal.